ACCOMMODATION offer in Prague and in Bohemia
You will find below our best choice of
hotels in Prague, hotels in Bohemia, boarding houses in Prague, hotels in the Czech Republic for your trips to Prague, your stays in the Czech Republic, your circular tours around Bohemia
. All the hotels in Prague listed in the alphabetical order appear with a short description and photos. To get our best rates please fill in the requested items and ask for the access password.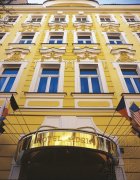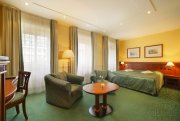 Adria
Adria Hotel Prague is a classic four-star hotel situated at Wenceslas square in a building dating back to the 14th century, completely reconstructed in 2003. All 89 rooms are comfortably equipped in classic style and have a bathroom with a tub or a shower. The rooms are equipped with TV SAT, radio, direct telephone and a mini-bar. All rooms are air-conditioned. The Lobby bar, the Triton restaurant in the art nouveau style and the Neptun café are at the clients' disposal. The hotel offers three conference rooms, used for press conferences, coctails, banquets, trainings, catering etc.
Capacity: 89 rooms
Gallery: Adria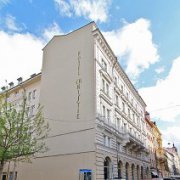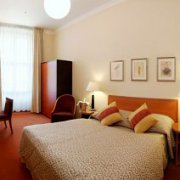 Beseda
Beseda Hotel is 500 meters from Wenceslas Square, in one of the most attractive localities in tourist and business centre of Prague. Hotel is an exceptional spot for comfortable accommodation, conferences and social events and offers modern comforts in a traditional style. All rooms are equipped with: satellite TV, direct dial telephone, WIFI, minibar, safe, desk, bathroom and social, hairdryer, anti-allergic skin bedding.
Capacity: 125 rooms
Gallery: Beseda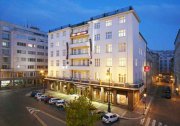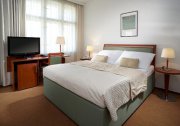 Clarion Old Town
Clarion Hotel Prague Old Town is situated in the historical center of Prague, close to major points of interest and financial districts and shopping areas. Nearby you will also find the National Technical Museum (Narodni Technicke Museum), National Museum (Narodni Muzeum) and the historic Jewish Quarter (Josefov). Guests traveling on business will appreciate access to copy and fax, computer with Internet access and a meeting room that can accommodate up to 130 people. Multimedia equipment is available for your corporate events. All elegant rooms at this hotel have air conditioning, satellite TV, direct dial telephones, computer jacks, a mini bar and offices. Some rooms have a balcony. Free Wi-Fi throughout the whole hotel.
Capacity: 90 rooms
Gallery: Clarion Old Town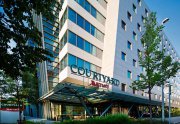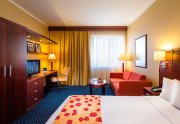 Courtyard Marriott Flora
Hotel Courtyard Marriott Flora is opposite Prague's famous Flora shopping mall and seven minutes from Prague Old Town and downtown by Metro. It offers free wireless Internet in all public areas, on-site underground secure parking and a cardio fitness centre. Each of spacious hotel rooms features Wi-Fi and wired high-speed Internet (for a small fee), in-room coffee and tea, iron and ironing boards, 32-inch LED TV, refrigerator, safe, spacious work areas with convenient outlets and large bathroom.
Gallery: Courtyard Marriott Flora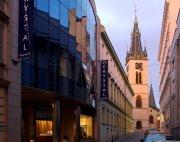 Crystal Palace
Hotel Crystal Palace is a wonderful hotel located in the centre of Prague, just a short walk from Wenceslas Square. The hotel is in an excellent location in close proximity the business and leisure districts of the city making Hotel Crystal Palace perfect for both business and leisure guests. The hotel's rooms are extremely comfortable and luxurious with plush linens and décors, each room is equipped with the finest facilities including satellite TV, internet connection and air conditioning to name but a few. The hotel is also equipped with excellent conference and meeting facilities capable of accommodating for a total of 60 delegates.
Gallery: Crystal Palace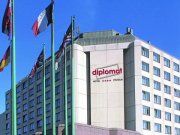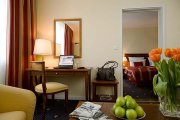 Diplomat
The four-star hotel is situated close to the Prague Castle and only 10 minutes away from the City Airport Ruzyně. There are 398 standard/superior rooms and suites. The catering facilities include the CD-Club restaurant, which offers a wide choice of traditional Czech and international culinary specialities, the Loreta restaurant, well suited for buffet-style breakfasts, lunches or dinners for groups, or the Klimt café where you can taste a delicious assortment of pastries, cakes and ice creams over a cup of coffee or tea.The hotel provides a spacious Conference Centre equipped with latest technology and capacity for up to 820 people to hold conferences, meetings, presentations, receptions and other private events.
Capacity: 398 rooms
Gallery: Diplomat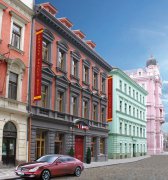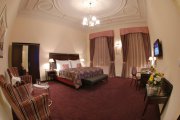 Embassy
Embassy Prague Hotel is a four-star hotel located in the center of Prague. The 1880 Neo-Renaissance building was re-designed in Art Deco style which was also adopted for the hotel interiors. The hotel is offering 41 spacious rooms (1 Barrier-free Double Room available) Free Wi-Fi on the entire hotel premises. For business clientele, a daylight-lit conference hall is available featuring direct access from the hotel patio. The hotel is also well-suited for family meetings and celebrations.
Capacity: 41 rooms
Gallery: Embassy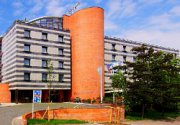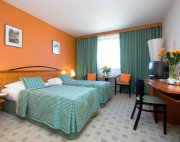 Expo
Hotel Expo is located close by the Prague Exhibition Area with its main landmark Industrial Palace - the pearl of European Art Nouveau. The immediate vicinity of Tipsport Arena, Incheba Arena- venues of sporting and cultural events and Krizik´s Fontain with its unique performance full of music, ballet, play of lights and film projection on the water screen will delight our leisure guest. Royal Park - Stromovka affords relaxation in the countryside just few steps from the hotel. The rooms are equipped with modern conveniences such as minibar, safe, TV with satellite connection, direct dial telephone, LAN + Wi-Fi internet free, bathroom with bathtub, hair dryer and separate toilet.
Capacity: 106 rooms
Gallery: Expo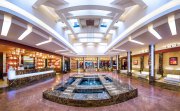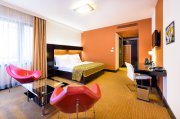 Grand Majestic Plaza
Member of the "Worldhotels" chain, it represents an example of a successful modern style. It is in the very desirable place of the Old Town, in the heart of the historical and commercial centre, in a walking distance from the Municipal House, Powder Tower and the Old Town Square is only 300 m from the hotel. It provides 185 superior rooms, 5 de-luxe rooms and 6 suites. All are air-conditioned, provided by LCD TV-SAT, telephone, internet access, minibar, safe deposit box, hair dryer in the bathrooms. Its restaurant Atrium, with the capacity of 130 seats, offers traditional Czech, Thai and Mediterranean cuisine and its Lobby bar is available for all guests. Our opinion: new modern and stylish hotel, all fresh, very flexible and available for all kinds of requests from the customers, high-end service!
Capacity: 196 rooms
Gallery: Grand Majestic Plaza
Hotel www: https://Grand Majestic Plaza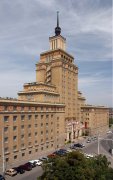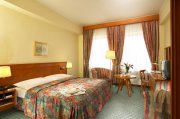 International Praha
The International Praha hotel, a declared National Monument, is classified as a four star deluxe hotel, located in the residential embassy district of Prague, in the immediate vicinity of the Prague Castle. The hotel provides accommodation in 254 fully air-conditioned spacious standard rooms, deluxe rooms and suites. The Restaurant Harvest and the Racanska Vinarna Restaurant offer you international and local cuisine with monthly specialities. You can also enjoy a mediterranean cuisine and typical Czech dishes in the Volcano Garden & Grill Restaurant. The cocktail bar and the coffee shop in the lobby offer you a unique atmosphere with live piano music in the evenings. 18 modern, fully equipped conference rooms provide capacity for 10 to 400 delegates. Fitness Centre, Sauna, Solarium, Souvenir shop and 24-hour guarded outdoor parking.
Capacity: 278 rooms
Gallery: International Praha
Hotel www: https://internationalprague.cz/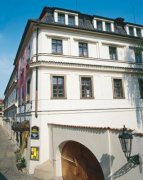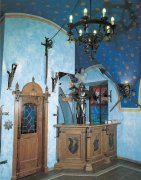 Kampa - Stará zbrojnice
This 4-star hotel originally refurbished in the romantic style of the 17th century is located in the picturesque district of Malá Strana, close to famous sights like Charles' bridge and the National Theater but still far away from the bustling city. There are 84 luxurious rooms each with its own bathroom with shower, toilet and hairdryer as well as direct-line telephone, safe deposit box, minibar, TV-SAT. Other services include hotel foreign currency exchange, laundry service, room service, parking. The hotel houses a restaurant called the Knights' Hall, which ranks among the most attractive restaurants in Prague thanks to its collection of historical weapons and decoration as well as its interior with vaulted ceilings. The Knights´ Hall is also a perfect venue for having small seminars, large social events or even conferences for up to 250 people. WLAN - wireless Internet connection is available.
Capacity: 84 rooms
Gallery: Kampa - Stará zbrojnice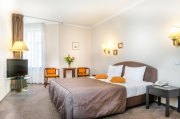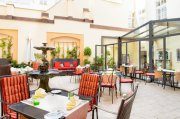 Leonardo
Beautiful charming boutique hotel located in the centre of the Old Town, only few steps from the Charles Bridge. All 82 rooms provide a comfort of 4* with furniture of the « Art Nouveau » style; some face to the river or Prague Castle. Wi-Fi available. Very comfortable atrium with a summer terrace in the inner interior.
Capacity: 82 rooms
Gallery: Leonardo
Hotel www: Leonardo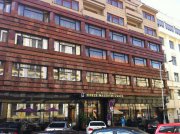 Majestic Plaza
Hotel Majestic Plaza is located in one of the most attractive localities in the historical and commercial centre of PRAGUE, just a few steps from the famous WENCESLAS SQUARE. The hotel consists of two interconnected historical buildings with rooms furnished in ART DECO or BIEDERMEIER style. All the rooms are equipped with individually adjustable air-conditioning, internet connection, LCD TV-SAT, direct dial phone, radio, alarm clock, minibar, coffee & tea making facilities, safe deposit box, writing desk and chair. In the hotel courtyard, there is a summer terrace available for breakfast, lunch, dinner or coffee breaks by conferences and welcome drinks social events.
Capacity: 182 rooms
Gallery: Majestic Plaza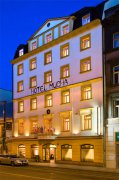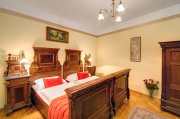 Mucha
Luxurious hotel Mucha is located in the city center, not far from Old Town Square, Wenceslas Square and Republic Square. The hotel is also close to the Main train station and Masaryk train station. There are also many restaurants and cafés near the hotel. The original antique design rooms are comfortably equipped with bathroom (shower or bath, WC), satellite television, telephone, free internet connection, hair-dryer, in-room safe deposit, minibar, ceiling fan, tea / coffee making facilities.
Gallery: Mucha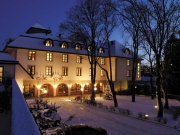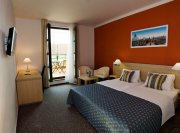 Na Zámečku
Hotel Na Zámečku is situated in a picturesque and peaceful area called Záběhlice, a residential part of Prague easily accessible from the city centre. Modern and comfortable furnishing evoking romantic atmosphere will satisfy the most demanding VIP guests. The hotel offers accommodation in 57 rooms in categories standard/business. All rooms have its own bathroom with a bath or a shower, SAT TV and direct telephone. Business clients can also use WIFI internet, telephone, fax, secretary and interpreter services, three meeting rooms with the capacity from 20 to 45 people. The hotel restaurant serves a wide range of Czech and international dishes and excellent Moravian wines. Other services at the disposal of the clients are: parking, a safe, room service, Sauna and Fitness.
Capacity: 57 rooms
Gallery: Na Zámečku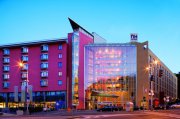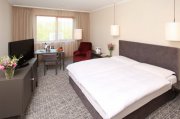 NH Hotel Prague
The 4 star hotel NH Prague is the only two-complex hotel connected by a unique "Lanovka" inclined lift. From the upper part, enjoy a fantastic view over the city while experiencing premium gastronomy. Conveniently located in Prague 5, this hotel is a prime destination for business and leisure travelers thanks to its vicinity to the historic city centre and at the same time, easy access to the airport. All rooms are equipped with individual air conditioning, cable TV, connecting to the Internet, free coffee and tea service, minibar, free safe.
Capacity: 439 rooms
Gallery: NH Hotel Prague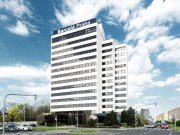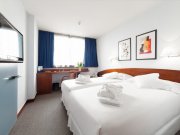 Occidental Prague
The Occidental Praha **** hotel, situated in Prague's business district, is a professional 4-star hotel with a multifunctional conference centre. It is just 10 minutes from the city centre. Its 14 floors offer stunning panoramic views over the city. The hotel offers large, comfortable, bright and fully equipped rooms (air conditioning, heating, safe, TV, telephone, fully equipped bathroom, hairdryer), whose décor combine an avant-garde style with warm tones.
Capacity: 213 rooms
Gallery: Occidental Prague
Hotel www: https://Occidental Prague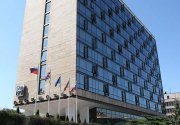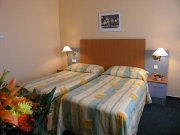 Parkhotel Praha
The Parkhotel Praha hotel is located on the left bank of the Vltava river, close to the Prague Castle and the Stromovka park. Due to its location and equipment, it is an excellent choice for visitors coming to Prague for business as well as leisure. The 237 fully equipped rooms all have air conditioning, minibar, safe, radio with alarm clock, direct dial phone, TV SAT, hair dryer. The hotel offers to its clients an unforgettable gastronomic experience in the restaurant, pizzeria or Lobby bar, in the café or on the summer terrace. There are four multifunctional meeting rooms for up to 250 people at the clients' disposal.
Capacity: 237 rooms
Gallery: Parkhotel Praha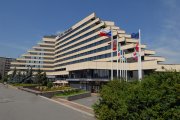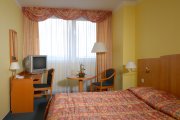 Pyramida
The hotel is located in the district of Prague 6 just bordering the famous district of Hradčany with the Prague Castle. There are 344 rooms, each of which has individual sanitary installations (shower, WC), hairdryer, minibar, telephone, TV SAT, safety deposit box. The catering facilities include the Koppernik restaurant, which offers a wide range of traditional Czech and international cuisine, the Bohemia restaurant, which serves mainly as a breakfast restaurant for the clients, and the Franz Kafka lobby bar where you can choose from a wide selection of coffees & delicious home-made cakes. Other hotel services comprise: fitness centre – sauna, swimming pool, gymnasium, massages, parking, secretarial services. The hotel disposes of a congress hall, several lounges and a cinema hall.
Capacity: 648 rooms
Gallery: Pyramida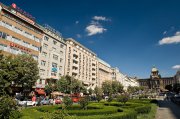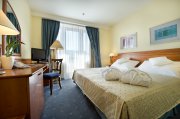 Ramada
Ramada Prague City Centre Hotel is located at the top of Wenceslas Square, the perfect location in the historical as well as business-attractive centre of Prague. The hotel is barrier-free and easily accessible via municipal transport. Sensibly reconstructed, spacious and comfortable air-conditioned rooms are offering fresh and up-to-date design, comfortable equipment: satellite TV, Internet connection, Air Conditioning, mini bar, direct-dial phone, safe deposit box, blackout curtains, desk with a lamp, bathroom with shower stall or bathtub and hairdryer.
Capacity: 99 rooms
Gallery: Ramada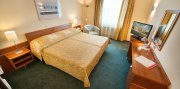 Ramada Airport
Ramada Airport Hotel Prague is modern four-star hotel located right at the Václav Havel Airport Prague (Terminal 3). Its location and focus are well-suited for business trips, transit and short-term lodging including meetings in the vicinity of international airport. Municipal transport buses and metro or hotel taxi service are available for quick transport to Prague city centre. The entire hotel is barrier-free and fully air-conditioned. Modern hotel rooms feature noise protection windows and black-out curtains for a healthy and undisturbed sleep. The rooms feature mini bar, safe, and desk, bathrooms are offering enough space and light. Standard rooms (single, double, twin), business rooms, junior suites and barrier-free room are available. Free Wi-Fi coverage is available on the entire hotel premises.
Capacity: 56 rooms
Gallery: Ramada Airport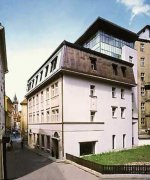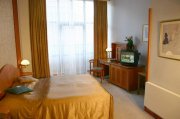 Royal Esprit
A small, stylish Art-Deco hotel with an ideal position near the historical centre. Every room is equipped with a bathroom with WC, minibar, satellite TV, direct-dial phone, fax and Internet access. An air-conditioned conference room provides 14 seats. A beautiful outside terrace offers an amazing view of the city. An agreable restaurant and a bistrot with the original Gothic vaulting are at the guests' disposal.
Capacity: 27 double rooms, restaurant 36
Gallery: Royal Esprit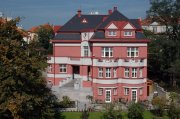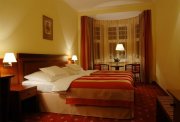 Villa
The Villa hotel occupies a charming villa built in the ART DECO style of the 1930's. It has been recently reconstructed into a hotel. It is situated in a beautiful garden in a peaceful villa district very close to central Prague. The location just 5 min. from the Želivského metro station provides a convenient connection to the city centre. The hotel offers accommodation in 32 elegant, air-conditioned rooms equipped with TV-Sat, phone, safe, minibar, and hair dryer. There is a stylish restaurant in the hotel called the Restaurant in the Rose Garden which offers culinary specialities such as home made pasta, fresh vegetable salads and rump steaks of Uruguayan. There is a conference room available for business meetings or presentations. Among other services provided are exchange office, souvenir shop, ticket reservation for cultural events, guide services. Parking available.
Capacity: 32 rooms
Gallery: Villa
Hotel www: Villa