ACCOMMODATION offer in Prague and in Bohemia
You will find below our best choice of
hotels in Prague, hotels in Bohemia, boarding houses in Prague, hotels in the Czech Republic for your trips to Prague, your stays in the Czech Republic, your circular tours around Bohemia
. All the hotels in Prague listed in the alphabetical order appear with a short description and photos. To get our best rates please fill in the requested items and ask for the access password.
Accommodation
in Prague
Hotels in Prague, accommodation in Bohemia & Moravia, lodging in the Czech Republic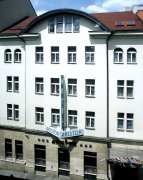 Ariston
This newly refurbished cosy hotel with a family atmosphere occupies a building from the beginning of the 19th century. The hotel is situated not far away from the historical centre and five minutes from the Prague's main railway station. The 62 rooms provide bathroom with bathtub/shower and hairdryer as well as direct-line telephone, safe deposit box, minibar, TV-SAT and coffee making facilities. Free Internet access in the lobby hall. The hotel offers a lobby bar and a hall that can be used for seminars and other events.
Capacity: 62 rooms
Gallery: Ariston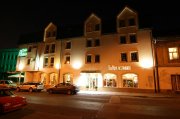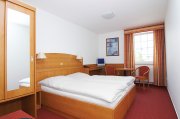 Avion
A new and agreable modern hotel has a favourable location in the calm part of Prague 6 near the main road leading from the airport. The distance from the city centre is 5 km and it is available by tram and metro in 15 minutes, the Prague Castle is reachable in 20 minutes on foot. All rooms have separate bathroom, toilet, direct-dial phone and satellite TV. The hotel dispose of a restaurant, hotel garage, the parking-site for the buses is directly in front of the hotel.
Capacity: 33 rooms
Gallery: Avion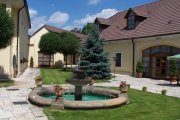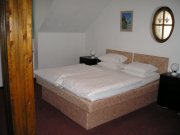 Baroko
A cozy familial hotel is situated on outskirts of the city in a quiet part of Prague 10 - the centre is about 7 kilometres far, easily available by public transport ( bus + metro). The hotel was established from an ancient farm dating from the 17th century and guaranties the highest comfort to its guests. All rooms have a bathroom, toilet, satellite TV, radio and a direct-dial phone. The hotel dispose of an outside pool, nice garden, tennis court and hotel restaurant with lounge for special occasions.Safe parking is provided on the premises.
Capacity: 28 rooms, restaurant 60 places
Gallery: Baroko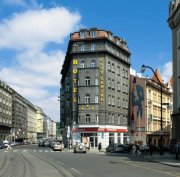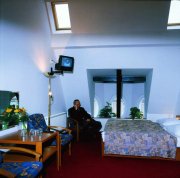 City centre
This 3* hotel is located in the heart of the city, only a 5 minute walk from the major Prague boulevard Wenceslas Square and the wonderful Old Town. All 89 rooms are well equipped, each of them providing a bathroom with a shower, Satellite TV, direct telephone and a room safe. Other services available in the hotel are exchange office, souvenir purchases, tickets and sightseeing-tour reservations. The hotel has a casino with dice and a bar in tropical style. Supervised car park is available in the garage of the department store Kotva located on the opposite side of the hotel.
Capacity: 89 rooms
Gallery: City centre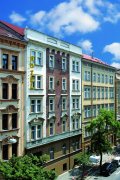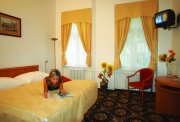 City club
The recently opened tourist-class hotel has an excellent location, only 15 minutes walk from Prague's main boulevard Wenceslas Square and 5 minutes from the underground station I. P. Pavlova (one stop only to the city centre). The hotel offers 106 rooms, each of which equipped with a bathroom with a shower, Satellite TV, direct telephone and a room safe. Other services include an exchange office, a souvenir shop, sightseeing-tour reservations, etc. There is a lobby bar in the hotel. Parking available in the garages of the hotel.
Capacity: 106 rooms
Gallery: City club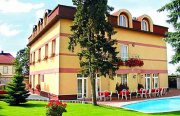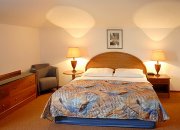 Elizza
A recently reconstructed villa built in the Art Nouveau style, located in the pleasant and peaceful residential area of Prague 10, only 10 minutes to the city centre by car, 25 minutes by public transport (- the city bus in walking distance, then to continue by metro). Each room has a bathroom with a shower and toilet, satellite TV, telephone, minibar and safe. The hotel dispose of a restaurant and bar, agreable garden terrace with the outdoor barbecue, outdoor swimming pool and parking site. This familial hotel of the undoubted three-star category offers the outstanding personal approach to the client.
Capacity: 30 rooms, restaurant 50 places
Gallery: Elizza
Hotel www: Elizza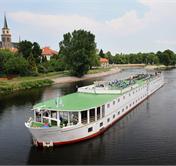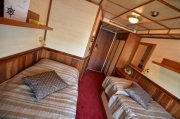 Florentina Boat
Florentina is a cosy river ship that serves as a botel and restaurant during the low season. In summer you can rent the boat and make a river cruise along the biggest Czech rivers. The botel restaurant with a bar and a large partly shaded deck gives you an opportunity to spend your time on board to your satisfaction. MS Florentina was built in 1980 and newly reconstructed in 2013-2014. A 96–passenger ship offers 49 rooms with a splendid view of the Prague Castle. All the rooms are equipped with a bathroom, toilet, radio and television.
Capacity: 49 rooms
Gallery: Florentina Boat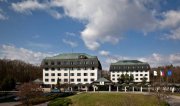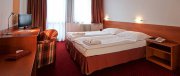 Globus
The newly reconstructed 3* hotel is located in the district of Prague 4, in a nice and quiet area overlooking a park and offering a superb view of Prague. The hotel offers high quality services at reasonable prices. The nearest metro station is situated only a 3 minutes' walk from the hotel, which makes the hotel highly accessible. The 150 rooms provide an enjoyable and relaxing stay with en suite bathroom, direct dial telephone and satellite TV. Rooms on the top floor have a balcony with a breathtaking view of Prague. The hotel serves buffet breakfast on a daily basis. In addition to an à la carte restaurant offering international and traditional Czech cuisine, the hotel has a brasserie, a wine cellar with music and a summer terrace. Other services include an exchange office, a safe and rent a car services 24 hours a day at the reception. A private indoor car park is available for cars, parking places for buses in front of the hotel. The hotel disposes of a conference room for up to 40 persons.
Capacity: 150 rooms
Gallery: Globus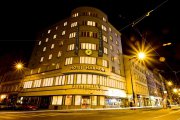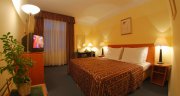 Harmony
A middle-category hotel has an advantagous location right in the city centre, just a few steps to the Powder Tower and the Old Town with its remarkable architecture monuments. Each room is equipped with a bathroom and toilet, direct-dial telephone, radio and satellite TV. There are 2 restaurants with a bar.
Capacity: 60 rooms
Gallery: Harmony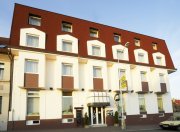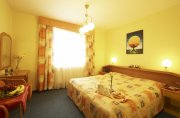 Henrietta
The Henrietta Hotel is located only 15 minutes from the historic centre, in a quiet part of Prague, close to a metro station and a tram stop, making it possible to reach the historic centre within a few minutes. All the 32 guest-rooms have en-suite bathroom, telephone, satellite TV and radio. Clients will appreciate the pleasant and quiet atmosphere of the hotel, friendly welcome and high standard services, which include currency exchange, the sale of souvenirs, round trips and excursions, and local transport tickets, catering for groups in the hotel restaurant, breakfast buffet and underground parking. The hotel can also arrange social events in the hotel restaurant and in the stylish restaurant La Casita (receptions, corporate events, conferences, catering, etc.)
Capacity: 32 rooms
Gallery: Henrietta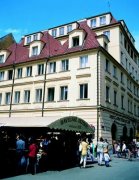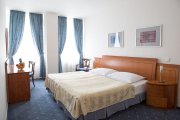 Melantrich
This recently renovated hotel is located in the very heart of Prague, halfway between the Wenceslas Square and the Old Town Square. Thanks to its excellent location and its friendly, family-like atmosphere, the Melantrich hotel is the right choice for your enjoyable stay in Prague. The hotel provides accommodation in 24 comfortably equipped rooms, all with bathroom/WC, telephone and TV/SAT. The hotel of garni category (B&B) offers buffet breakfast. Other services include foreign currency exchange, car rental assistance, taxi service, reservations of sightseeing tours, trips outside of Prague, and cultural events.
Capacity: 24 rooms
Gallery: Melantrich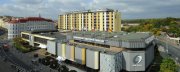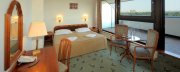 Olšanka
The Congress and Sport Hotel Olšanka enjoys a quiet location in the district of Žižkov, only 9 minutes by tram or underground from the old town of Prague. The hotel features a large sports centre with swimming pool with aqua aerobic lessons, courts for badminton, table tennis, fitness centre, sauna, massages and a hair studio. The congress complex includes the great congress hall for a maximum of 450 participants, as well as several small meeting rooms. Most rooms are non-smoking, however in order to accommodate our smoking guests, two floors are smoking. Each room is equipped with comfortable furniture, satellite TV, a direct dial telephone, wireless high-speed internet access and a newly renovated bathroom with bathtub (or shower) and toilet.
Capacity: 610 beds
Gallery: Olšanka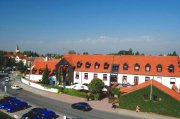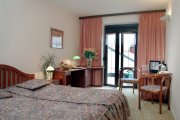 Parkhotel Průhonice
The Parkhotel Pruhonice hotel is located in Pruhonice - a picturesque suburb of Prague, in the proximity of the Průhonice Castle and its gardens. It is situated just off the highway D1 to Brno and Vienna, a few minutes by car from the Prague city centre (15 km) and within reach of the public transportation system. With its high standard of services and latest facilities, the hotel is convenient for both business and pleasure. The hotel has 25 double rooms, all equipped with shower, WC, hair dryer, minibar, TV-satellite, telephone and radio. In most rooms WIFI Internet access is available. The hotel has a restaurant with a fireplace where you can taste the chef's specialities. The hotel also provides 4 fully equipped conference rooms. A private car park is available and guaranteed for all hotel guests free of charge.
Capacity: 25 rooms
Gallery: Parkhotel Průhonice
Hotel www: Parkhotel Průhonice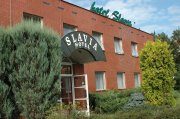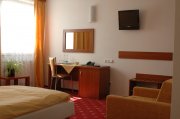 Slavia
The Slavia Hotel is located in a quiet area of Prague, next to the sport facilities of Sports Club Slavia. The city centre can be reached within 15 minutes by public transport (either by tram or metro – line A, station Strašnická). Parking for both cars and buses directly next to the hotel. The hotel offers accommodation in two categories: 94 single, double and triple rooms in category*** (all rooms equipped with shower, WC, cable TV and direct dial telephone) and 50 single, double, triple and family rooms in category*** Superior (all rooms equipped with shower, WC, cable TV, direct dial telephone, hairdryer; fire alarms in the rooms and corridors; free barrier access to the hotel and rooms). The Slavia Hotel has two restaurants with the capacity of 60 and 90 places, which may also be used as conference halls. There is a meeting room with audio-visual equipment for up to 30 people. The reception with an exchange office and hotel safe is open 24 hours a day. Additional services for your comfort and entertainment include: secretary services, a wide range of audiovisual devices, internet connection, disco, live music, guide services, excursions, trips and tours, transport, rent-a-car service, tickets for cultural events etc. The price is including halfboard (breakfast and dinner)!
Capacity: 144 rooms
Gallery: Slavia